Welcome to The Birch Tree
Jamie, Sara and the team welcome you to The Birch Tree. Nestled just outside of Coalville, Leicester, our characterful building is filled with cosy corners, comfy armchairs and open fires, with our award-winning garden.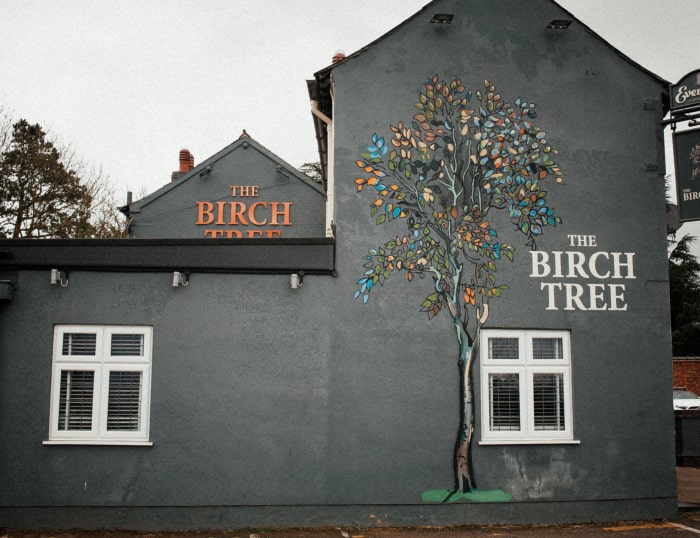 £80 per person – adult
£40 per person – children (aged 10 and under)
£40 per person – adult deposit
£20 per person – children deposit (aged 10 and under)
Last sitting 2pm
Closing time 4:30pm
Pre order and deposit is essential
£27 per person
£5 per person – deposit
Available Tuesday – Saturday from 28/11/2023 – 22/12/2023
£20 per person
Deposit Required
Book your Christmas Party at The Birch Tree now. Hosted in our marquee which holds a minimum of 50 people and a maximum of 80 people. £200 for the hire.
Ploughman's Platter
Beetroot & Feta Pasta salad
Crusty Bread rolls & butter
Mixed Salad
Christmas Cake & Mince Pies
Truffled Mushroom Pate with Vegetable sticks
Cold cuts of Meat
(including Ham, Turkey & Beef)
Red Pesto Salmon Kebabs
Gala Pork Pie
Coleslaw
Open Sandwiches 

Smoked salmon & creme fraiche
Falafel & Salsa
Prawn & Marie – Rose
£40 per person
£10 per person – deposit
Christmas Fayre Menu & Entertainment
Freddie Mercury Tribute
Friday 1st December
Michael Bublé Tribute
Friday 8th December
Tina Turner Tribute
Saturday 16th December
Planning a Celebration? We Cater for Any Event
Did you know that we have a huge marquee that can hold up to 70+, the marquee has its own bar and is a fantastic place to hold your next event! If you're after a more intimate setting we do offer a more private dining room which caters for up to 45 people. For more information please do not hesitate to call or email us.
First time at the Birch tree Coalville I found it was great the food was excellent, l had the meat feast it was very good the meat was cooked to perfection no way could you fault it the veggies were all good and was some leftover we could not eat them all, the pudding was great apple and blackcurrant crumble with custard again could not fault it and the drinks were nice and cold, the waitress was very good and attentive not pushy at all served us with a smile and the bill was very reasonable would recommend the Birch tree to anyone who enjoys their food and does not want to rush it. Had a great time and will be back soon well done the Birch tree.
Visited for the first time for an evening meal with friends. The ambience of the place is superb. Very friendly staff in beautiful surroundings. The toilets are quirky but impeccable. Moving on to the food, this was hot and delicious. I had the mixed grill, and I have to say it was nearly the best, if not THE best I have had. Everything was cooked perfectly and tasted wonderful. I managed a sweet of sticky toffee pudding with custard, which, again, was delicious. There was a good selection of Everards beers. The cost of the food and drink was on a par with other restaurants, and very good value for money. I have no hesitation in recommending this restaurant very highly, and we will certainly return.
Fantastic food piping hot very warm welcome staff polite and helpful highly recommend you won't be disappointed Fantastic meals to end our holiday a big thank you to the staff and your wonderful food
My husband 70th birthday was a complete surprise for him 19 hiding in the back room The food was delicious the waitresses were superb and waited on our every need Do complements to the management the chef the waitresses. Great afternoon cannot thankyou enough ..we will be back
Book a table today at The Birch Tree and get your delicious home cooked food from our local sourced suppliers. We are also dog friendly too, please feel free to bring your pooch into our bar area. (We can't let them miss out on the fun!)